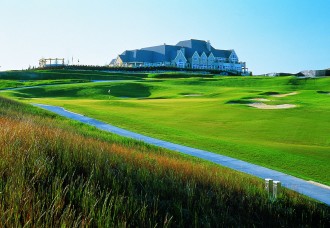 The Golf Club at Newcastle caps 350 expansive hilltop acres in Newcastle, Washington. The location of this 36-hole championship golf course is framed by stunning, panoramic views of Lake Washington, Mount Rainier, the Olympic and Cascade Mountains and the Seattle skyline. The natural beauty of the place is astounding.
In addition to the course, the property also features a 44,000 square foot clubhouse which serves guests year round including dining, weddings and corporate events. Whether inspired by the beauty of this property and its pristine setting with some of the best views in the region or compelled by its customers' and employees' desire to participate in the same phenomenal recycling programs they were becoming accustomed to at home, at large sporting events and elsewhere, the club decided to make a concerted effort to increase its recycling efforts by adding the diversion of food waste from the landfill. In 2008, the club launched a food waste recycling in partnership with Cedar Grove.
With a robust food waste recycling program in place, the club took it a step further. The club evaluated how it could further close the loop on organics recycling and realized that bringing that material (compost) back to the course to provide nutrients to the soil was a great place to start.
In 2011, they partnered with Cedar Grove again to begin trials on their practice turf with compost to see how compost might benefit the turf. Pleased with the results, the club decided to take it further.
In 2012, Cedar Grove began supplying the club with compost for their top dressing needs. The program grew in 2013 and the club used 200 yards of Cedar Grove/ICON Materials Professional Turf Series 80/20 as a top dressing.
"Cedar Grove has continually presented us with quality products and a willingness to accomodate the specific needs of our facility and because of that we've implemented the use of their 80/20 mix into our tee topdressing program," said Brent Smith, superintendent, the Golf Club at Newcastle. "Cedar Grove is always looking to cater to the needs of the turf industry and because of this they will remain a relied upon supplier for us."
For golf courses, Cedar Grove compost is a logical alternative to top dressings because of its nutrient-rich blend of organic materials. With proper application, Cedar Grove compost can decrease the use of pesticides, fertilizers and irrigation; reducing maintenance costs, as well as providing benefits for the environment.
By top-dressing turf with compost, many soil-borne fungal diseases are suppressed as effectively as conventional fungicides. The addition of compost also makes fertilizer application more efficient and "greens up" grass without promoting excessive growth.
By adding 10-20 percent compost to a sand top dressing, water filtration rates can be boosted, thereby reducing water needs. The regular application of compost also helps grass to develop strong roots.
"The Golf Club at Newcastle has creatively, innovatively and aggressively pursued better ways to manage turf; better for the aesthetic beauty of the course, better for the environment and better for their bottom line," said Nick McHenry, district manager, Cedar Grove. "Their willingness to try new approaches to traditional turf management has positioned them as innovative leaders in how to effectively manage turf while reducing cost and the course's impact on the environment."
Click here for more information about Cedar Grove's turf management products for golf courses.