Cedar Grove partnered with Washington State University Snohomish County Extension to conduct compost trails with local farms. The trails conducted showed significant improvements in crop yields after the application of Cedar Grove Compost.
"With the potential to increase production of some specialty crops by 20 percent, this could have a significant economic impact on Washington's specialty crop industry," said Andrew Corbin, Extension agriculture and natural resources educator.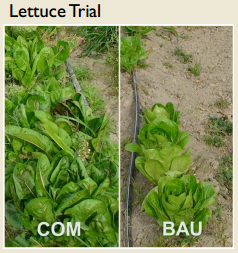 Crops participating in the trials included blueberries, raspberries, blackberries, hazelnuts, potatoes, hay, haylage, pasture grass, broccoli, lettuce, flowers (multiple species), pumpkins, turf grass, field corn, sweet corn, nursery and orchard trees, and more.
- 57% saw Greatly Improved or Improved effects on crop production
- 69% saw Improved effects on soil quality
- 100% increase in Triticale yield
- 20% increase in Pumpkin yield
- 24% increase in weight of Sweet Corn