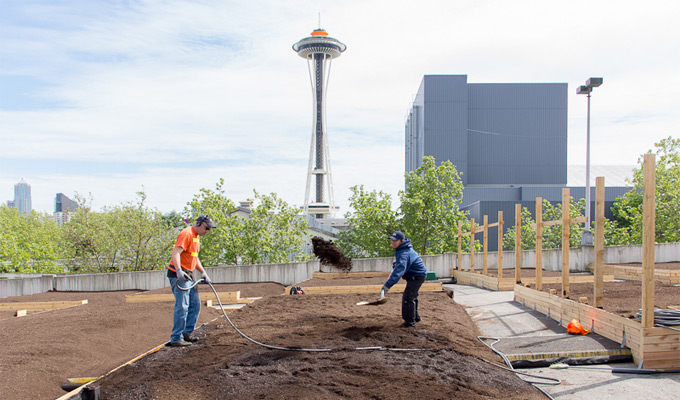 Upgarden
06/28
Rooftop gardens are all the rage and Cedar Grove Composting is the go-to partner for architects and homeowners who want to grow food on top of buildings. The new Mercer parking garage community p-patch in downtown Seattle is a great example of Cedar Grove problem solving.
The idea seems so practical and obvious: in dense urban environments where land is at a premium why not use the tops of homes, garages and commercial buildings for gardening? Easier said than done primarily because the rich and dense soil that your fruits and veggies love is super heavy and requires either more structural support (expensive!) or a different approach to soil requirements.
The Seattle Urban Farm Company worked with Cedar Grove to select the appropriate soil for the rooftop garden at Bastille Café and Bar in Ballard. The success of that garden prompted the Urban Farm Company to recommend Cedar Grove to the architects designing the city's first rooftop p-patch community garden on top of the Mercer Parking Garage at the Seattle Center. Landscape architect Nicole Kistler with Kistler/ Higbee Cahoot worked closely with Cedar Grove's soil specialist Jami Burke to select the best product for the parking garage p-patch.
Veggies are heavy feeders and they typically need compost amended mineral soil to thrive. But since the typical soil for raised beds and gardens in the backyard is too heavy, the new p-patch will use Cedar Grove's light weight rooftop mix: lighter and an excellent solution. It breaks down more quickly than composted soil so it does require an annual addition, unlike the backyard garden which may need additional compost every other year. The good news is that though this is more light weight soil it's still teeming with the beneficial organisms that feed soil and plants and offer superior tilth.
The rooftop garden is a part of Seattle's Department of Neighborhood's P-Patch program funded by the 2008 Parks and Green Spaces Levy. The program, which sets aside green spaces in areas of Seattle that lack them, identified Uptown (lower Queen Anne and Seattle Center neighborhoods) as a priority. Meanwhile, the Seattle Center is celebrating its 50th anniversary with a focus on sustainability, so having a public garden was a perfect fit.
Living walls and fences and roof top gardens are all fairly new but embraced throughout our region because they offer amazing opportunities to add garden opportunities in places with little extra land. The opportunity to help community gardens is part of Cedar Grove's efforts to "close the loop" with pragmatic solutions. In concert with the city of Seattle we pick up and compost food waste and yard waste so that it's useful once again in our community. When it comes to vertical gardening, the sky truly is the limit!