Cedar Grove plays an important role in diverting organic waste from landfills. From two local facilities, we compost over 350,000 tons of residential and commercial yard and food waste annually.
If Cedar Grove had not invested in this technology for our local community, all that organic waste would disposed of as trash and shipped to landfills. Instead, Cedar Grove transforms it into nutrient-rich compost-based products.
Our Facilities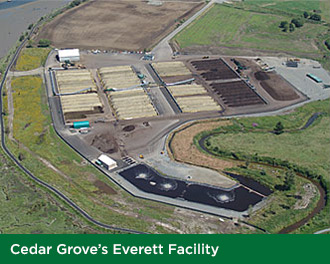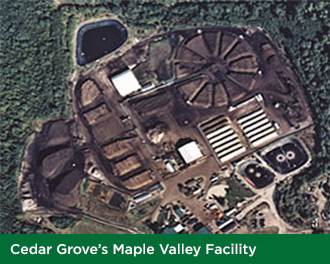 We welcome visitors to our Everett facility. We've had more visitors than any other composting facility in North America, with over 5,000 people from 17 countries touring our operation.
We are only able to accomodate tours for those over the age of 18 at this time.
If you would like to provide an overview of what happens to material that come to Cedar Grove for those under the age of 18, please visit our YouTube library for a virtual tour and other informational videos.
Our Technology
We believe in investing in the best technologies available—in the world. We search far and wide for state-of-the-art equipment that produces measurable results, and our diligence continues to pay off.
We utilize GORE® Cover and the OdoWatch™ system. These technologies help us continue to lead the way in waste recycling, odor management and the creation of renewable products.
The Loop
When you buy and use Cedar Grove products, you contribute to completing a local recycling loop and supporting a sustainable, local economy. This translates to cleaner water, improved soil, harnessed energy and more fresh air. All good things if you ask us.