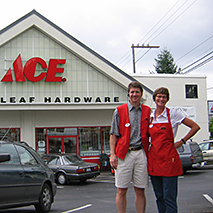 "Cedar Grove compost is the premier brand in the Maple Leaf neighborhood."
Maple Leaf Ace Hardware
"We are partners to our own dirt," Maple Leaf Ace Hardware co-owners Mike Kelley and wife Kathy Stephenson explain of their customers' enthusiasm for Cedar Grove compost. Maple Leaf Ace Hardware is one of Cedar Grove's great independent retailers.
In an age of big box dominance, Maple Leaf Ace Hardware thrives by offering friendly, helpful service to local customers who like doing business with a long established, community-connected retailer offering products tailored to their needs.
Maple Leaf Ace Hardware has been a neighborhood fixture since 1950, originally as Hall's Ace Hardware. In 1974 Tom & Karen took it over as Stephenson's Ace, and expanded the business to its current footprint. The broom was passed to Mike & Kathy in 2005 who renamed it to reflect community. Mike was introduced to the neighborhood (and his future wife, Kathy) when he opened Reckless Video in 1991, located next door to Ace, where Kathy was working with her family. They both love the independent retail experience and always looking for ways to improve customer service. Their family lives nearby to be close to their stores, "It's fun to live among our own customers—I get to hear how we are doing from our neighbors!"
Mike believes offering a variety of brands brings vitality to a retail environment, yet still acknowledges that nothing is requested as much as Cedar Grove. He describes it as "the premier brand in the Maple Leaf neighborhood," where residents appreciate the importance of closing the loop for a sustainable future by turning their yard & food waste into next year's compost. Mike puts it this way, "we live our values here." And like many of his customers, Mike also uses and loves Cedar Grove in his own garden. He gives his wife credit for being the primary gardener, but how convenient that he can bring home the compost for the beans, onions, carrots and tomatoes they grow.
Cedar Grove relies on its strong network of retailers. We especially appreciate those who share our values of environmental stewardship and enthusiasm for composting. Mike talks about selling "products that help people," and Cedar Grove is proud to be a part of everyday business at Maple Leaf Ace Hardware.