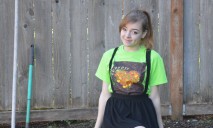 "Our composting program has made composting exceedingly easy for citizens of Maple Valley to recycle their food scraps and yard trimmings, increasing the sustainability of our whole community."
Emily Mozzone, International Compost Awareness Week poster design contest winner
Emily Mozzone, senior at Tahoma High School in King County, won the 2015 International Compost Awareness Week poster design contest. The contest, hosted by the U.S. Composting Council, drew more than 200 submissions inspired by this year's theme; "Be Loyal to Your Soil – Compost!"
Mozzone is a lifelong resident of Maple Valley, Wash., where Cedar Grove established the region's first commercial composting facility. Google noted that, in 2014, "how to compost" was the number one how-to-search in the Puget Sound region so Mozzone is no stranger to the benefits of composting.
Mozzone's design work is being used on posters, t-shirts and more by the U.S. Composting Council (USCC) to promote International Compost Awareness (ICAW) week.
Mozzone learned of the contest through Ms. Kara Oxner, her graphic design teacher at Tahoma High School. She had been finishing each of her class assignments early and her teacher recommended she use her extra time to design a project for the ICAW contest.
"I have been highly interested in both composting and the health of the environment since sixth grade, when I first discovered the troubling nature of our consumerist, throw away culture," said Mozzone. "I believe we should be reusing any materials we can, and composting is an excellent opportunity to do so."
"As a longtime member of the USCC, Cedar Grove commends Emily on this tremendous accomplishment and as her local composter, we are honored that a member of this community pursued and won this contest," said Karen Dawson, director of community relations, Cedar Grove.
At Tahoma High School, Mozzone has been involved in the "Clean Up Tahoma" event, organized by the National Honor Society. At this event, Mozzone and her schoolmates clean up garbage and recyclables on campus.
At home, Mozzone and her family maintain a fruit and vegetable garden, growing strawberries, blueberries, peas and tomatoes which they have always grown without the use of pesticides or synthetic fertilizers, an important piece of them as they want to grow healthy food.
Mozzone's interest in art began at age six and she looks forward to pursuing an education in graphic design when she graduates.
Prior to entering the USCC contest, Mozzone and her family were very familiar with Cedar Grove. "My family and I often use Cedar Grove products for our gardening and landscaping projects at home."
Mozzone appreciates the City of Maple Valley's municipal composting program available to residents curbside. "I view Maple Valley's composting program as extremely vital to our community. Our composting program has made composting exceedingly easy for citizens of Maple Valley to recycle their food scraps and yard trimmings, increasing the sustainability of our whole community."
Mozzone appreciates how easy it is to recycle in King County. She said that at Tahoma High School, sustainability is highly encouraged and compost, recycle and garbage bins are conveniently located throughout the school to ensure proper recycling and garbage disposal takes place during the school day. "I believe being surrounded by nature reminds the citizens of Maple Valley and King County alike that their responsible disposal and recycling choices directly affect the environment and encourages recycling habits that benefit the world around us" she said.
Mozzone said that there is just one thing that she'd like to see more of in Maple Valley and King County. "I believe the addition of more composting receptacles in public buildings could be a great benefit for our community."
Mozzone has a word of advice for residents who have not yet started recycling their food scraps curbside, "Food scraps are a large burden on our environment and plagues our landfills. We are presented with the option to transform it into something new again. Why not take the opportunity?"
Mozzone said she is very grateful for the opportunity to design the ICAW poster and she hopes that her design inspires others to compost their food scraps and yard trimmings.