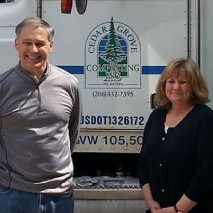 "An expert gardener advised us years ago to 'be as picky about your soil as you are about your plants and the results will be amazing.' She was right!"
Gardening with the Governor
Special Delivery: Cedar Grove Delivers Compost to Governor's Residence for Raised Bed Garden
In April 2014, Cedar Grove had the honor of delivering compost to the Governor's residence to amend the soil for their raised bed vegetable garden before their annual planting.
Governor Jay Inslee and First Lady Trudi Inslee have a shared passion for gardening which is paired with their desire to grow healthy food for local food banks and the broader community.
Originally installed in the spring of 2013, the garden was a vision of the First Lady to grow healthy food that could be donated to the local food bank and enjoyed by the local community.
Installation and care of the garden is a result of volunteers who share the goal of growing local healthy food for our community, such as GRuB, AmeriCorps and Kiwanis.
Some of the organizations that reap the fruitful harvests from the garden at the Governor's Residence include the Thurston County Food Bank, the Salvation Army Community Kitchen and the Rainier Valley Food Bank. The harvest of food is also used for events hosted at the Residence. Garden volunteers and state employees are also welcome to harvest vegetables at any time.
Golden beets, sugar snap peas, curly kale, candy corn and rhubarb are some of the favorite treats of the Governor and First Lady Inslee from their garden.
"Nothing tastes better than a freshly picked heirloom tomato served with yummy greens!" said First Lady Trudi Inslee. "Jay and I encourage folks to try growing their own food at home or in a community garden. Using natural compost to nourish plants ensures a bountiful harvest and helps to keep our planet healthy. An expert gardener advised us years ago to 'be as picky about your soil as you are about your plants and the results will be amazing.' She was right!"
The Governor and First Lady hosted a seed planting event on April 29 with local legend Ed Hume who provided seeds and instructions to guests on his best tips and tricks for planting seeds.