Cedar Grove Employee Spotlight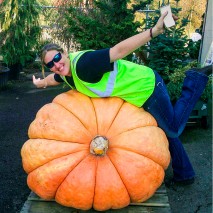 Michele Riggs
Michele Riggs, biodegradable technical specialist and environmental technician, plays a critical role on the Cedar Grove team. With the company since 2008, Riggs works on the Environmental Sciences side of the company, overseeing storm water compliance for the company's two composting facilities in Everett and Maple Valley, Wash. Riggs works to develop science-based protocols for "compostability" and conducts field testing of compostable products in addition to conducting other, related research projects.

Riggs helps design and implement solutions to meet National Pollutant Discharge Elimination System (NPDES) water quality benchmark requirements at Cedar Grove facilities. She conducts monthly inspections and collects storm water samples from five Cedar Grove locations. Riggs also, regularly interacts with Washington State Department of Ecology (WECY) representatives.

Michele is a Compost Facilitator Operating Training (CFOT) instructor. CFOT is a week-long, hands on Compost Facility Operator Training class sponsored by WECY , WORC, and Washington State University. Riggs also serves on the Board of Directors as the Vice President of the Washington Organics Recycling Council (WORC).

For her work as a biodegradable technical specialist, Riggs conducts field testing of biopolymers and other substrates. She interprets laboratory results for products that have met American Society for Testing and Materials International (ASTM International) compostability standards. Because of her expertise, she was invited to serve as facilitator for the United States Composting Council Compostable Products Task Force reviewing the current ASTM disintegration standard. Riggs also serves as the Technical Project Lead for ASTM International in rewriting the method for testing the biodegradability of products, while also overseeing a international study involving composters and laboratories working to resolve current issues with disintegration standards. She frequently attends and presents, as a technical expert, at industry-related conferences and workshops.

Riggs' academic background is in natural resources and chemical engineering. When she is not at Cedar Grove, Riggs enjoys snowboarding and other outdoor sports. The mother of two teenagers, Riggs enjoys playing the piano, crocheting and cooking for her large, extended family.