Cedar Grove Employee Spotlight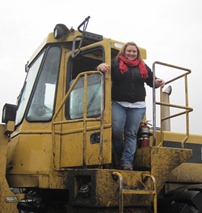 "I have learned to be a Cedar Grove chameleon."
Megan Estes
Megan's first job in the composting business in 1995 turned into a full on career with Cedar Grove in 1997. Since 1997, Megan has dabbled in everything from manual labor and operating front loaders at our facilities, to marketing and managing budgets. "I have learned to be a Cedar Grove chameleon," she says as she explains that throughout her 16 year tenure with Cedar Grove, her job has been an esoteric mix of responsibilities. Like many people, her career path mixes serendipity with hard work and constant learning.
"Megan Estes is the go-to Cedar Grove guru, she knows everything," says John Inge, Cedar Grove Marketing Director. Around the office,she is well known for her great attitude and willingness to lend a helping hand. She is a crucial partner to the Cedar Grove sales team and continues to help the call center with her extensive expertise.
Megan was a central part of opening the Everett facility office and scale system, using her vast knowledge to ensure that everything ran smoothly and functioned properly. It was her knack for customer service and keeping a close tab on customer trends brought her indoors in 2006. She was vital in the foundation of our call center, where she helped define the systems that organized our truck driver dispatch and enabled phone orders.
Megan puts on her mathematician hat to help people understand how much compost is in one yard (fills a small pickup truck bed), two yards (fills a full size pickup truck bed) and five yards (when delivered to your home it will take up about the same amount of space as a VW beetle—minus the wheels).
Outside of the workplace, Megan is a passionate gardener, using Cedar Grove compost products in her garden, and she is all about flowers and loves local Master Gardener sales for specialty plants. She also manages to find time to be a home chef, dog companion and softball star.