Cedar Grove Employee Spotlight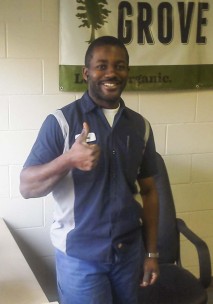 "I get to operate machinery that every boy dreams about."
Jesse Alyea
Jesse Alyea, born and raised in Everett, Wash., is the yard operator at Cedar Grove's Bellevue location. Jesse enjoys working outdoors, interacting with customers, the Cedar Grove sales team, drivers, call center and management staff. "I get to operate machinery that every boy dreams about," said Alyea.
Alyea was a part of the team that opened the Bellevue location in May 2012. While this role was new to Alyea, he worked at Cedar Grove every summer from his senior year of high school through college.
Alyea graduated from Central Washington University in 2009 with a degree in criminal justice and a minor in sociology. While he worked in his field of study for three years, he made his way back to Cedar Grove when he saw the excitement and opportunity at the new Bellevue location and recognized that he really enjoyed working outdoors.
He enjoys working with and assisting the variety of customers that come into the Bellevue location; do-it-yourself homeowners, landscapers, landscape architects and more.
In his free time, Alyea enjoys sharing good food with friends, playing golf, watching sports and playing board games.